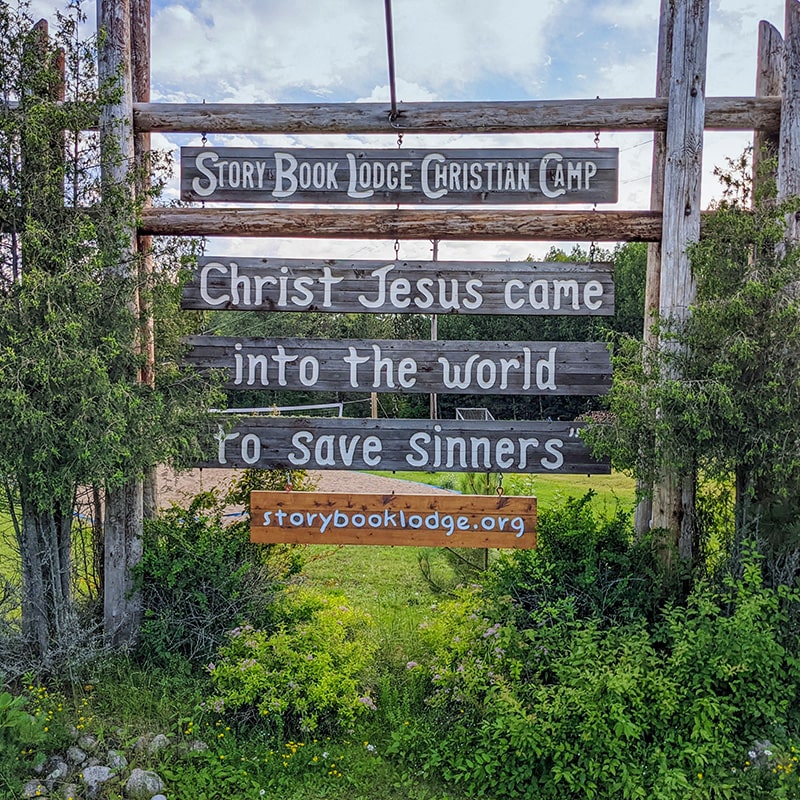 Story Book Lodge is a Bible camp located in the woods of northern Minnesota. It is tucked away in a beautiful spot in God's creation, with towering pine trees, crystal-clean air, and a freshwater lake. The Word of God is shared several times each camping day.
The Vision of Story Book Lodge
Story Book Lodge exists to promote the Lord Jesus Christ & the Word of God. We have a desire for those who believe in Him to grow strong in their faith through His Word.
We likewise have a desire for those who don't know Him as Savior to come to believe in Him as they hear God's Word.
Who Serves at Story Book Lodge?
Story Book Lodge is staffed by volunteers throughout the summer. There are also seven volunteer resident workers living on the campgrounds with their families. Jerry Brown & Jordan Juvland take care of maintenance wherever it is needed. Tori Lewicki is in charge of the camp kitchen, along with showing hospitality & cleaning up as needed. Uncle Bill Howell is the camp director & organizes the camps as needed. Each spouse assists in the camp work as they are able.
We thank the Lord for the sacrifices made by our volunteers to meet the needs of campers who attend the SBL camps.
Frequently Asked Questions
History of Story Book Lodge
The history of Story Book Lodge is one of a unique beginning and clear provision from the Lord. The camp property of 45 acres was purchased by Elizabeth Speriestersbach in 1929. She became a believer in the 1940s, and as a result, adjusted the focus of the camp to share the Gospel with young people. The first Christian camp took place in 1948 under the direction of "Uncle" Ben and "Aunt" Jean Tuininga.
Volunteer Staff Opportunities
Find out how you can serve the Lord at Story Book Lodge during summer camps, retreats and other times during the year.